Continuity Dinner
St Louis Section–ACS


What is the Continuity Dinner?
The Continuity Dinner is a fancier-than-usual Board Meeting, held each December to mark the official passing of the gavel from the outgoing to the incoming Chair. There is a General Meeting of the Section, the Distinguished Service Award winner is announced, the Henry Godt Memorial Lecture is delivered by a secret speaker. The "Continuity" part comes in where the outgoing chair turns over the official section gavel and the book A Century of Chemistry, which has been signed by all the Chairs and many distintuished guests since 1973.
This event is often held at a different venue than our regular monthly Board Meetings. We eat a little better, drink a little more, dress a little nicer, and often welcome members we haven't seen around for awhile. Even if you never attend any Section functions, you might want to put this one on your calendar.
Reservation for Continuity Dinner, 2012
Please join us: Thursday, December 13
(note venue change) Branica-Frontenac, 10411 Clayton Rd, St Louis, MO 63131 (map), in the Chateau Village (across Clayton Road from Plaza Frontenac)
5:30 pm social hour with cash bar
6:30 pm dinner, meeting, and Continuity events
Cost of dinner is $24. Please register by December 10 at bit.ly/2012ACSContinuityDinner and mail your check to:
Vic Lewchenko
354 Larkhill Ct
Webster Groves, MO 63119
Report from Continuity Dinner 2011
Neither snow nor sleet nor lack of good cheer marred the 2011 Continuity Dinner on December 8. Back once again at CJ Muggs in Webster Groves, a modest crowd of 25 celebrated the passing of the reins from the Cornelius administration to the Bruton administration.
In addition to the usual agenda for Board meetings, the Continuity Dinner features some special items:
a General Meeting of the Section as required by our bylaws
the forward looking announcement of the Distinguished Service Award winner
a special announcement of a special award, the Salute to Excellence
the Henry Godt Memorial Lecture given by a secret speaker
the ceremonial passing of the book and gavel to the incoming chair
For the first time in three years, we had no Bylaw amendments to consider, and having already met for a General Meeting in the spring, we did not convene a General Meeting this night.
Alexa Serfis—former chair, many-termed Councilor, and winner this year of the Midwest Region's Diversity Award—was honored as the Distinguished Service awardee. The award will be conferred officially at Recognition Night in March. But remember, you heard it here first.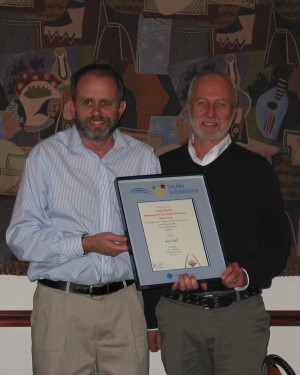 Greg Wall made a guest appearance to accept his Salute to Excellence. The citation for the award alluded to his service to the Section and the community as liaison to the St Louis Science Center, where he has organized National Chemistry Week and other outreach events for lo! these many years. And also Earth Day. Don't forget Earth Day.
With sly glances all around the room, Ted Gast finally rose to deliver the Henry Godt Memorial Lecture. Neither in prose nor poesy, Ted's distinctly modern take on the most successful and significant Section events of 2011 was delivered in tweets, with much gnashing of hashtags and at-signs. You can read the transcript, but you will just have to imagine Ted's impression of a browser displaying twitter.com.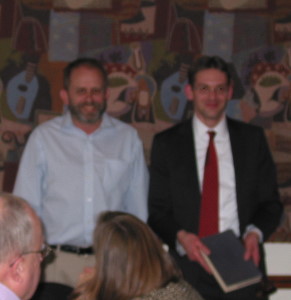 And finally, Jeff Cornelius, grinning ear to ear, tagged Eric Bruton with the gavel, the Section book, A Century of Chemistry, and most significantly, the duties of Chair for 2012. The book has been signed by every Chair and many distinguished guests since 1973. Eric looks forward to signing and passing the book (buck?) a short year hence.
Meeting adjourned, and a happy year-end to all.
The Henry C Godt Memorial Lecture
December 8, 2011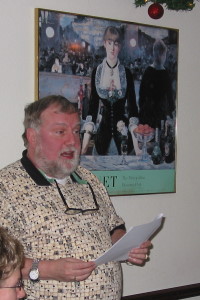 I imagined what the tweets might read, for this year's activities of St. Louis Section ACS:
#International Year of Chemistry, Follow IYC GlobalXperiment
@wall Battle of the Burets, 15 teams from 8 high schools. Clayton High School took top honors
@ritts Chromatography discussion group
@bruton YCC, 9 meetings and a summer hike. Check them out on Facebook.
@Buhse - 2011 winner of STL Award.
@XiaoChengZeng wins Midwest Award
Call for Papers #MWRM
#MWRM/GL Joint meeting tops record with 54 exhibitors. 21 people liked us on Facebook.
@balbes, @bruton, @jobrien, @lobrien for everyone, YCC, UMSL, Women, #Careers,
The transmogrification of chemjobsstl: #LinkedInGroup, Chemistry Careers in St Louis.
@jbc 7 members recognized for 50 years, and 3 for 60 years. #RecognitionNight
[Ed note: jbc is Jeffrey B Cornelius, 2011 Section Chair]
@jbc AiChe joint meeting
@jbc Principia student chapter restarted: grad students grill #annual picnic. @jbc Chemistry at the Illinois State Fair @Minteer, a fond farewell
Two Touring Speakers on Forensics of Glitter & Nanotechnology
Chemical progress week arrived with Chemistry is for the Birds, Extraordinary Noncoding RNA
@DeMeo, Undergraduate research symposium
Last year for ADACIOM, we will miss their support.
Gases and flames can be poured, #Awards Night
@wall, #Earth Day Plants-The Green Machine.
RT Nothing extra blew up @ChemistryMerit Badge @Jost and @SIUE
#SLU chemist wins regional diversity award - @AlexaSerfis
@Harris, Irrational Scientific Ideas
@mrted57, Check out my tweets on the #Continuity dinner.