Continuity Dinner
St Louis Section–ACS


What is the Continuity Dinner?
The Continuity Dinner is a fancier-than-usual Board Meeting, held each December to mark the official passing of the gavel from the outgoing to the incoming Chair. There is a General Meeting of the Section, the Distinguished Service Award winner is announced, the Henry Godt Memorial Lecture is delivered by a secret speaker. The "Continuity" part comes in where the outgoing chair turns over the official section gavel and the book A Century of Chemistry, which has been signed by all the Chairs and many distintuished guests since 1973.
This event is often held at a different venue than our regular monthly Board Meetings. We eat a little better, drink a little more, dress a little nicer, and often welcome members we haven't seen around for awhile. Even if you never attend any Section functions, you might want to put this one on your calendar.
Reservation for Continuity Dinner, 2009
... will be held at Glen Echo Country Club (

map)
5:30 social hour, open bar (beer, wine, soft drinks)
6:30 dinner and meeting
Reservations by December 1 to:


Dr William Doub
US FDA
1114 Market St., Rm. 1002
Saint Louis, MO 63101
(314) 539-3816

Make checks payable to St Louis Section–ACS, and send the following information:
Name(s) ___________________________________________________
Number attending ____ × $30 each = amount remitted $___________
Choice of entrée (number of each): fish ________ or steak ________
Report from Continuity Dinner, 2009
----------------------------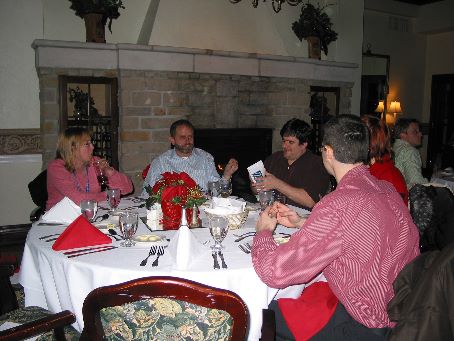 The 2009 Continuity Dinner was held on a mild but rainy December 10 at Glen Echo Country Club. The room was festively decorated and set with six round tables instead of the usual strictly-business arrangement typical of board meetings—one big rectangle. A total of 28 members attended, including four from the Younger Chemists Committee and three for whom this was their first Section event.
In addition to the usual agenda for Board meetings, the Continuity Dinner features three special items:
the ceremonial passing of the book and gavel to the incoming chair
the forward looking announcement of the Distinguished Service Award winner
the Henry Godt Memorial Lecture given by a secret speaker
In a gesture believed to be long overdue, Bill Doub announced that Keith Stine will be the Distinguished Service Awardee. The award will be conferred officially at Recognition Night in March.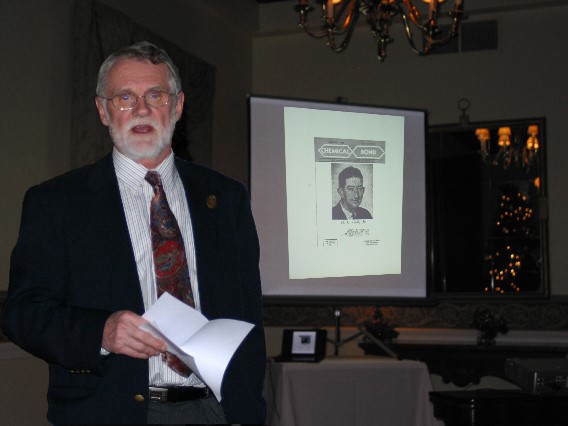 After much shuffling and misdirection, Lol Barton rose to deliver the Henry Godt Memorial Lecture. He began with a remembrance and paean to Henry—including a slide featuring Henry on the cover of the January, 1968, Chemical Bond, as incoming Chair—and concluded with a rundown of the most successful and significant Section events of 2009, and the people responsible. You can read the transcript here. Well, not so much a transcript as "here's what I remember saying, or wish I had said."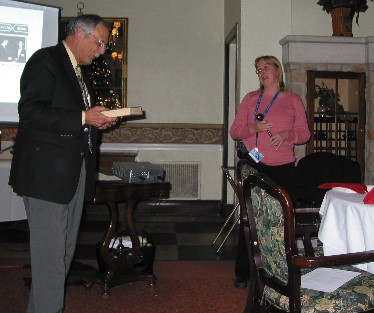 The Henry C. Godt Memorial Lecture
December 10, 2009
I am not sure who among you knows much about Henry Godt. When I became part of the leadership in the Local Section in 1972, Henry Godt was a fixture. Indeed when I first came to St. Louis in 1966, he was Editor of the Chemical Bond and then, in 1968, he was Section Chair. At the Continuity Dinner, especially in the eighties and nineties, Henry would rise at the end of the meeting and make some comments, often thanking folks who had not been thanked, often repeating some of what had been said on a range of topics, in order to emphasize them, and sometimes taking issue with something that had happened.

Ray Mount gave the first Henry Godt Memorial Lecture in 1999. We have had some excellent ones over the years, none better than the one given by Greg Wall in 2002, in rhyme. I re-read my copy just today. In December 2003 we added to the Job Manual for the Section Chair to select someone who, unannounced, would give the Henry C. Godt Memorial Lecture. I gave the lecture once before, in 2005.

It is not the Henry Godt Lecture that is important. It is the memory of Henry, whose loyalty and support of the Local Section was unwavering and most valuable. This Section has been a very successful one over the years, and that is due to the traditions established by the likes of Henry C. Godt. The Section meant so much to him. He never missed a meeting unless he couldn't possibly come and we recall his attendance with a respirator and an O2 cylinder during his last year with us.

My recollections of the highlights of his contributions are numerous. Two I will mention. One was his chairing of the local organizing committee for the National ACS Meeting in St Louis in 1984. The other was his remarkable efforts to obtain support for the two major awards given by the Section, especially Monsanto's support of the St Louis award. He was the first recipient of the Section's Distinguished Service Award. We considered naming the award after him but decided against setting such a precedent. Look him up on the web. He was a Monsanto chemist, musician, Arkansan, University of Michigan graduate and a great supporter of the Section. I always thought of Henry as old. In fact, he was often the oldest person at the Board meetings. Actually by my current standards he was not old. He died in 1998 at the age of 72! I am almost that age now and I am not old at all, am I? Henry would, if he were here, comment as follows:
He would acknowledge that the Section was much richer because Bill Doub finally accepted the job as chair – had been asked several times and conflicts didn't allow him to do it.
He would describe the dilemma we were confronted with at the beginning of the year concerning the Bond editor situation.
He would certainly acknowledge that the debate on Section dues and that the decision to increase them and to support the St. Louis Award, something he worked hard to support, was a good one.
He would then go on to acknowledge some of the unsung and some not so unsung heroes of the Section.
Lisa Balbes and her career counseling activities, and also her rising star as a member of our Councilor delegation at national meetings would be noted.
Greg Wall and David Haselbauer organized the Career Awareness Fair. David did a great job as Education Committee chair and we understand he has a great successor.
Greg Wall. What can one say about Greg that is adequate? His outreach activities on behalf of the Section, the minority science showcase, NCW, Kids and Chemistry, activities at the Science Center, etc. He has worked tirelessly and selflessly for years on behalf of young people and chemistry. We were sorry to see him resign as councilor and happy he was replaced by another loyal hardworking member, Alexa Serfis.
Don Leavitt – Registered Agent for the Corporation died in fall 2008. Henry probably knew and met him but no one else I know did.
Cheryl Loux – a relatively new member of the Section has worked hard on Chemistry is Fun and the Science Fairs. This latter is fun to do but very hard and the solicitation for volunteers can become very tedious.
Eric Ressner – what can we say about him? Distinguished Service Award winner this past year, recipient of a Salute to Excellence and the one who saved the Chemical Bond. Communication is the key to the success of any organization and Eric was the communicator.
Who will forget Recognition Night and Bill's uninvited speaker? Although uninvited, and a tad too long, the presentation by Dr Lincoln Diuguid was certainly one for the ages!
Our Awards night speaker was Hal Harris. Hal is always ready to step in and talk about almost anything.
Bruce Kowert has done most of the work on the Marcus Award for years, but many don't know who he is nor do they understand how seriously he takes the job and what a good job he does.
Sunset Committee for the printed Chemical Bond. Yes we had a committee – I was on it, along with Donna Friedman and Keith Stine, but Eric was the leader and did almost everything!
The Boy Scout Badge, initiated by Lisa Balbes but now with a bit more help, has been one of the best new developments in the Section in many years.
Awards were chaired by Pat Burrell-Standley. Again someone who did not seek the limelight but has been a hard worker in the Section now for several years and it is going to get harder!!
St. Louis Award is our signature event, closely followed by the Midwest Award. Both the symposium and to a lesser extent the banquet were great successes and I for one thought Chris' talk was excellent. Bill did a great job there, too.
National Chemistry Week. I have to confess I have never really been involved in that aspect of Section work, but it always goes well and I suspect it did so this year.
PROJECT SEED. Finally someone established a program involving several students, and who else but Keith Stine. Since it took place on our [UMSL] campus I know it went very well, and now I understand he is going to try to expand it to other campuses in the Section.
Ted Gast is now a fixture and somewhat of a mascot in the Section. Our treasurer does such a splendid job.
Jeff Cornelius our new Chair-elect did so well as Secretary. Pat Burrel-Standley, our new Secretary, will have a tough act to follow but I am sure she is up to the task.
It is so good to see Ben Outlaw again formally involved in the Section. He was Chair in 1988 and at a New Member Reception he organized, Henry Godt's Band, the Knights of Swing were there, almost blasting us out of the Clayton Community Center!
I left the best to the end. YCC has done such a good job this past couple of years and that bodes so well for the future. Actually there are lots of younger folks involved in the Section and that is very important. For example, in addition to the YCC group, Dana Baum, Brent Znosko, Shelly Minteer and the others. Don't forget, we will have a very young chair next year. Shelley Minteer has become a research star in the area but she is still very young.
Keith Stine. Keith has been perhaps our consistently most valuable participant, most loyal member and most serious and conscientious colleague in the Section during the past decade. Congratulations Keith and Happy Holidays everyone.