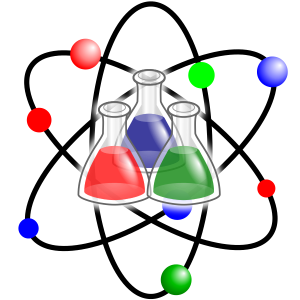 The High School Chemistry Contest competition was held on March 8th and 9th this year at University of Missouri–St Louis. Myron Reese, contest coordinator, has reported the results.
Places are based on a written test. The Regular Division exam is open to students who are in their first year of high school chemistry (other than an AP course); the Advanced Division is for those taking a second year of chemistry or AP chemistry. Each exam has a multiple-choice section and then a "tie breaking" section that consists of short-answer and essay questions.
Clayton and Ladue dominated the Advanced Division, with four of the top five places hailing from Clayton High School and one from Ladue Horton-Watkins High School. Among Honorable Mentions, we find Marquette, Parkway, and Lafayette represented as well.
Among Regular Division winners, we saw a bit more diversity. Three high schools (John Burroughs, Clayton, and Marquette) among the top five, and additionally St Louis University High appearing in the HM's.
Congratulations to all of the 2019 winners, listed below, and to their teachers. All are invited to Awards Night, April 15th, as guests of the Section to be recognized for their achievement.
We also hope to see many of the Regular Division competitors returning next year to make their marks in the big league.
HM = honorable mention
Regular Division
For students taking their first year of a chemistry class, other than AP chemistry
Place
Student
School
Teacher
1st
Megan Li
John Burroughs School
Eric Knispel
2nd
Koray Akduman
Clayton High School
Brad Krone
3rd
Lawrence Liu
Marquette High School
Cathy Farrar
4th
Grace Homann
Clayton High School
Brad Krone
5th
Sriharsha Gonuguntla
Marquette High School
Cathy Farrar
HM
Daniel Gatewood
St. Louis University High School
Mary Russo
HM
Jennifer Li
Marquette High School
Cathy Farrar
HM
Michael Tu
John Burroughs School
Eric Knispel
HM
Madeline Blatt
Clayton High School
Brad Krone
HM
Hanji Sun
St. Louis University High School
Mary Russo
HM
Harry Chen
Ladue Horton Watkins High School
Sarah Barton
HM
Kylie Goldfarb
John Burroughs School
Eric Knispel
HM
Rahul Jasti
John Burroughs School
Jaclyn Yetter
HM
Kevin Hickey
St. Louis University High School
Mary Russo
HM
Noah Kennedy
Clayton High School
Brad Krone
HM = honorable mention
Advanced Division
For students taking a second year of chemistry or an AP chemistry class, this is a qualifying round for the National Chemistry Olympiad.
Place
Student
School
Teacher
1st
Zacharia Hadjri
Clayton High School
Nathan Peck
2nd
Junyi Su
Clayton High School
Nathan Peck
3rd
Christopher Ye
Ladue Horton Watkins High School
Alyson Levine
4th
Lenny Chen
Clayton High School
Nathan Peck
5th
Kevin Kotzbauer
Clayton High School
Nathan Peck
HM
Shelei Pan
Ladue Horton Watkins High School
Alyson Levine
HM
Aaron Zoll
Clayton High School
Nathan Peck
HM
Rincon Jagarlamudi
Marquette High School
Cathy Farrar
HM
Andrew Lee
Parkway Central High School
Beth Karfs
HM
Elvis Wei
Lafayette High School
Cristina Marasigan
HM
Janvi Huria
Marquette High School
Cathy Farrar
HM
Nathan Koch
Clayton High School
Nathan Peck
HM
Moses Schindler
Ladue Horton Watkins High School
Alyson Levine
HM
Myles McCarthy
Clayton High School
Nathan Peck
HM
John Wang
Clayton High School
Nathan Peck