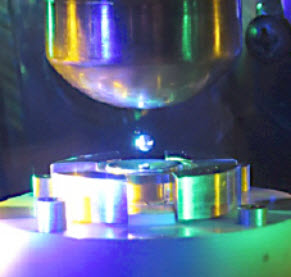 Not exactly ours (STLACS), but sounds interesting: Ken Kelton, the Arthur Holly Compton Professor in Arts & Sciences, presents a public lecture, Materials through the Ages, sponsored by the Institute for School Partnership of Washington University.
From the announcement:
The launch date is decades away, but NASA will be sending humans to Mars. The trip is not without its challenges. The round trip could take up to three years. This means NASA needs lots of new materials. The development of materials has always gone hand-in-hand with advances in technology. Metals and glasses have been the dominant materials over the ages; plastics and semiconductors have taken on significant roles in the relatively recent past. Over thousands of years, by trial and error, humankind has learned how to produce superior materials for different types of processing.
Topics include
Techniques used to tailor metals and glasses for specific applications
Modern instrumentation
Advanced techniques being explored for materials of the future
Particulars:
Thursday, April 26, 2018 at 4:30 pm
mySci Resource Center
6601 Vernon Avenue
Saint Louis, MO 63130
The event, lecture at 4:30, reception at 5:30, is free, but pre-registration requested by April 18.