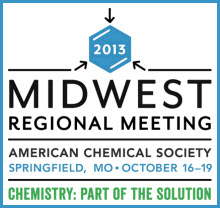 Abstracts are now being accepted for the 2013 Midwest Regional Meeting. Hosted by the Ozark Local Section at The University Plaza Hotel in Springfield, MO, October 16–19. Meeting Registration will open the week of July 8th. Submit your abstract before the last-minute rush.
Planned symposia will include:
Spectroscopic and Structural Methods in Chemistry
Nanoscale Engineered Biomaterials and Biosensors
Current Trends in Polymer Science
Crystal Engineering & Supramolecular Chemistry
Chemistry in Imaging: from Basic Science to Application
and general and poster sessions will be held in the areas of Inorganic, Organic, Analytical, Biological, Medicinal, Physical Chemistry, Polymer and Material Science, Nano-materials, Chemical Education, Theoretical Chemistry, and Undergraduate Research.
Visit the meeting website for evolving MWRM 2013 information.