Career Night, 2010
with your local YCC

Chemistry Career Night, 2010
Sponsored and organized by the St Louis Section–Younger Chemist Committee (YCC)
For young chemists in search of career-planning guidance, the Lab Science Building at Washington University was the place to be on September 15. That's when and where the third annual Chemistry Career Night was up and running. Organized by the Younger Chemists Committee of the St Louis ACS Section, the event featured four distinguished speakers from industry and academia. The speakers addressed topics of particular interest to younger chemists, including undergraduates, graduate students, academics, and those early in their industrial careers.
Before the presentations, there was time for attendees and speakers to network, and take advantage of the light refreshments on offer. The main event began with an introduction to the ACS local section by Keith Stine (YCC advisor), followed by YCC Chair Eric Bruton. Eric spoke about the YCC, welcomed the audience of about 70 attendees, and introduced the YCC officers and members who coordinated the event.
The guest speakers of the evening were
William Abraham, director at Monsanto
David Berberich, director of R & D at Covidien
Courtney Starks, principal scientist at Sequoia Sciences
Garland Marshall, professor at Washington University Medical School
Each spoke for about 20 minutes, sharing some of their career experiences and talking about the different industries each of them work and have worked in over the course of their careers. They also offered career advice relevant to their respective backgrounds. After the talks, the speakers formed a panel to answer questions from the audience for about 15 minutes.

Each of the speakers received a certificate and a gift of appreciation. Following the formal program, everyone moved back to the spacious Rettner Gallery for dinner and another opportunity to network. Many stayed to talk to the speakers and with each other while enjoying dinner.

The event was supported financially by the St Louis Section–ACS. Saint Louis University provided printing of the program booklets and signs. Washington University graciously provided the meeting space and facilities.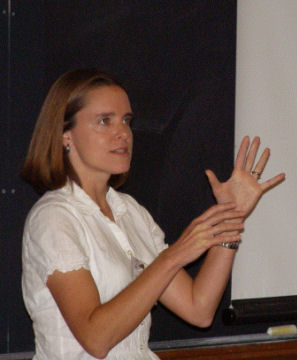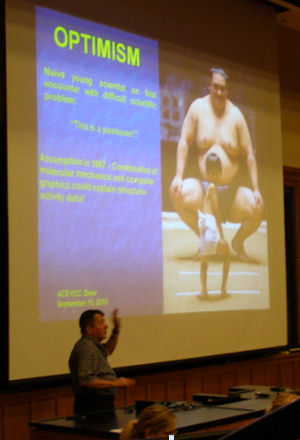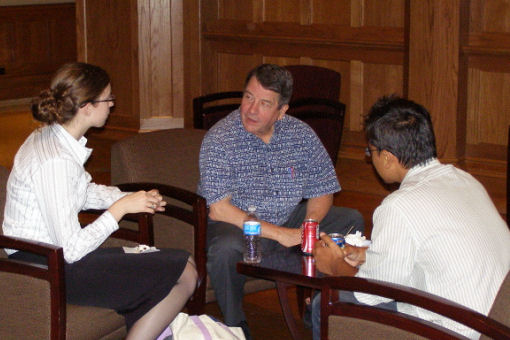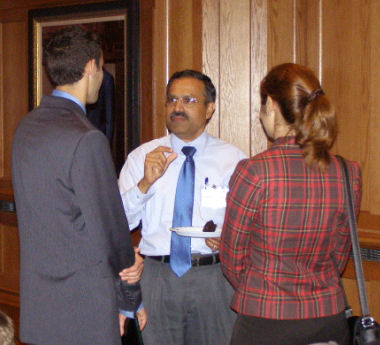 ---
If you need more information or have problems with this site, please contact the WebMaster.