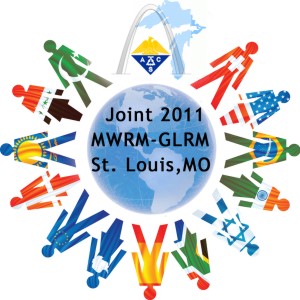 Home
Technical program
Undergrad program
High school teacher program
Special events/awards/nominations
Exposition & sponsorships
Getting here/Venue »
Area activities
The button below will take you to an external website, where room reservations are accepted.

Room reservations will continue to be accepted at the MWGL 2011 rate through October 14th based on availability.
Some users have been unable to get to the Sheraton website using this link; it seems to be a browser-specific issue (notably Google Chrome, but possibly others, too). The problem has been reported to the Sheraton. If the issue affects you, please try using a different browser, or place your reservation by phone (314.878.1500) and ask for the ACS Midwest Regional Meeting convention rate. Note that the Sheraton has kindly extended the reservation deadline because of this issue.
46th Midwest
39th Great Lakes
Joint Regional ACS Meeting
Getting here/The venue
The 46th Midwest/39th Great Lakes Joint Regional Meeting of the American Chemical Society will be held in St Louis, October 19–22, 2011, at the
Sheraton Westport Chalet
191 Westport Plaza
Saint Louis, MO 63146
Getting here
By air

Fly into Lambert-St Louis International Airport (STL), not Mid-America Airport (BLV). Use a free courtesy phone to contact the Sheraton Westport Chalet and ask for a shuttle pickup. Let them know whether you are waiting at Terminal 1 or Terminal 2. Then make your way outside to ground transportation and wait for the Sheraton Westport shuttle in the section marked for hotel shuttles. American Airlines offers a 10% discount for travel to/from St Louis between Oct 16 and 25. Refer to fare code 81H1BC when making reservations.

By train

If you can get to Amtrak at your end, we have you covered at our end. Book your passage to the Kirkwood MO station (KWD), one stop west of the main St Louis station, and call County Cab/Yellow Cab, 314.993.8294, for the 20-minute (11-mile) ride to the meeting site. Amtrak offers a 10% discount off the lowest available rail fare to Kirkwood, MO, Oct 16–25, 2011. To book your reservation call Amtrak at 800.872.7245 or contact your travel agent; convention fares cannot be booked on the internet. Refer to Convention Fare Code X24H-930 when making your reservation.

By car

Let Google Maps get you here from wherever your home base is. Although the hotel is just a few yards from I-270, getting from the highway to the hotel is a bit of a spaghetti bowl. We recommend you print a local detail map, and pack snacks, emergency blankets and flares. (Just kidding about that stuff after the map.) There is plenty of free covered parking adjacent to the hotel.
The venue

Room reservations will continue to be accepted at the MWGL 2011 rate through October 14th based on availability, at the Sheraton Westport Chalet or Sheraton Westport Plaza Tower. The Chalet should be your first choice—that's where the meetings and events will be—but the Plaza Tower is less than a five-minute walk across the parking lot. Rooms are very similar; amenities are identical; public spaces are shared between the two hotels.
You must use the meeting link to the Sheraton Westport hotels (Reserve a room button at left). Please be sure to make your reservation as soon as your plans are firm. If your plans change, reservations may be cancelled without penalty until 24 hours before check-in.
The Sheraton Westport Chalet is located on the "waterfront" of Westport Plaza, near I-270 and Page Avenue. Lambert-St Louis International Airport is eight miles away, and the hotel offers a complimentary airport shuttle. Free outdoor and covered parking are available.
Guest rooms provide a seating area and cable TV, and feature the new Sheraton Sweet Sleeper™ Bed and individual tea and coffee facilities. There is free wireless internet access in the exposition area and in the hotel lobby. The hotel has an indoor pool and a gym. There is a seasonal outdoor pool, but you won't be needing it in October.
The Club Lounge offers complimentary breakfast and afternoon snacks with a variety of beverages. Lucerne Restaurant serves traditional American cuisine.
Westport Plaza hosts the Funny Bone Comedy Club for ... well ... comedy, Backstreet Jazz and Blues for live music and dancing, and many popular restaurants, all a short walk away.