Coffee with Chemists in February is a special event in conjunction with the IUPAC Global Women's Breakfast (GWB). This event celebrates women and girls in STEM with a breakfast that starts in New Zealand, circles the world with the sun, and ends in Hawaii.
The STLACS iteration: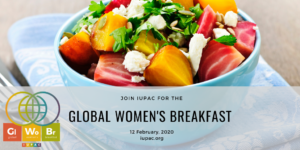 February 12, 2020, 7:30 – 9:00 am
at La Bonne Bouchee
Westgate Centre
12344 Olive Blvd, Creve Coeur, MO 63141
Of course, all genders are welcome. We'll have our normal social time plus a bit of programming related to the GWB 2020 theme, Building bonds to create future leaders. Please register to reserve your spot. Can't make it this month? No problem. Join the Meetup and get notified when we post next month's event.
More information from IUPAC on the GWB.
Contact Tabbetha Bohac with questions.