Recognition Night is a time for the Section to celebrate our members, award winners, and past officers who make the Section so successful and vibrant. Many past officers of the Section were in attendance, and the program included the list of those who have served, going all the way back to 1908!
This year, we honored not only our 50 and 60 year members of ACS, but also included two 70 year members! What an accomplishment.
2017 Chair Natalie LaFranzo honored Vic Lewchenko with the 2016 Distinguished Service Award, recognizing his contributions as Section Treasurer and Photographer for a number of years.
Awards Chair Mikhail Berezin honored Alison MacInnes from Monsanto, our 2017 Chemical Science and Technology Award Winner.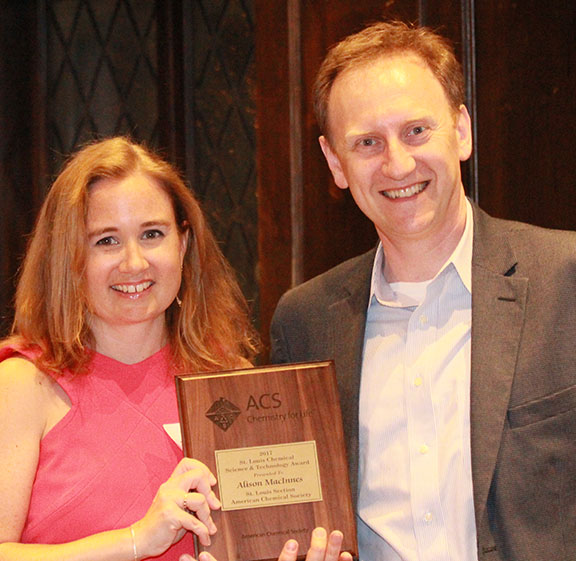 Finally, Natalie LaFranzo acknowledged and thanked Joe Ackerman for his contributions as Chair of the Section in 2016. Joe then provided the evening's entertainment, with an engaging story of an UN-murder mystery, complete with a villain, a victim, and NMR spectra.
The Section's 50,60, and 70 year members are listed below, and those who attended are acknowledged with an asterisk:
FIFTY-YEAR MEMBERS
Dr. William E. Dahl
Dr. David Hill White*
Mr. James "Mike" Willock*
Mr. Dennis Jerome Kalota
Dr. Harold Andrew Dieck
Dr. Jack H Ladenson
Dr. Thomas Frederick George
Dr. Alvin Hirsh Gold
Dr. Jacob Franklin Schaefer*
Mrs. Grace Johnson Fishel
Mr. Michael Joseph Zetlmeisl
Dr. Gerard "Jerry" Dutra*
Dr. Mark Leroy Unland
SIXTY-YEAR MEMBERS
Ms. Martha "Marty" Rose Rhine*
Mr. Paul Bernard Tarman
Dr. William T. Miller
Dr. Rudolph Ernst K. Winter*
Dr. Alfred G Hortmann*
Dr. Charles F. Hobbs, deceased
SEVENTY-YEAR MEMBERS
Dr. Franklin E Mange*
Mr. Louis Edward Klein