Vol. 66, No. 4, April 2015
Call for Nominations: Saint Louis Award
Nominations are solicited for the St Louis Award, which is sponsored by the Monsanto Company and administered by the St Louis Section–ACS. Nominees should be individuals who have made outstanding contributions to the profession of chemistry and demonstrated potential to further the advancement of the chemical profession. The awardee is selected by a review committee constituted by the St Louis Section–ACS. The award, consisting of a $1,500 honorarium and a plaque, is presented at the St Louis Award Banquet, which is typically held in October during National Chemical Week.
At the time of the nomination, nominees must not have previously received the Midwest Award or any national ACS-sponsored award. Nominees must be members or affiliates of the St Louis Section of the ACS. Nomination packets received by April 30 are considered for award presentation in October.
Nomination packages (vide infra) should be prepared as a single Portable Document Format (PDF) file and sent by email to Joseph Ackerman ackerman@wustl.edu .
Nomination letters, required as an integral component of the nomination PDF-file-package, can be formally addressed to:
Joseph J. H. Ackerman, Ph.D.
ACS Saint Louis Award Coordinator
Department of Chemistry
Campus Box 1134
Washington University
1 Brookings Drive
Saint Louis, Missouri 63130
Nomination packages (single PDF-file) should include, in this order:
a face page with the award name, the nominees name, and the date of the nomination;
a nominating letter, which includes note of any significant activities with the Local Section;
two additional seconding letters (not more) from individuals who have had a close professional affiliation with the nominee;
a brief biography of the nominee (one page or less);
a concise description of the nominee's chief accomplishments in the field (one page or less); and
a list of publications and patents.
Additional details can be found at http://www.stlacs.org/st-louis-award.
---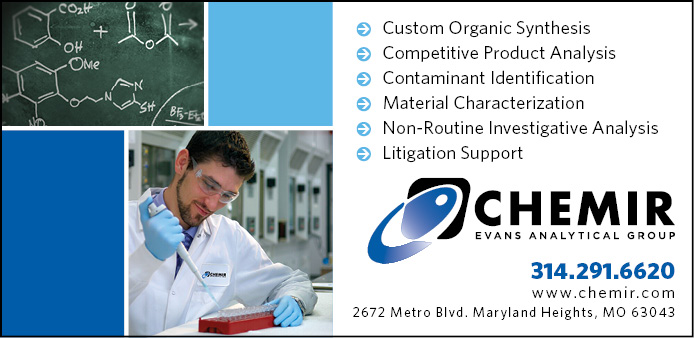 ---

Recognition Night 2015
The 2015 Recognition Night was held on Saturday March 7th, at Maggiano's Little Italy. 25 people attended the event. The evening started with appetizers and a slide show of 2014 section activities. There was one 60-year ACS member, Dr Avrom Ringel Handleman, in attendance and four 50-year members: Drs Derek Redmore, John Rapko, Benjie Outlaw, and Esther Plowman. Following dinner, each 50- and 60-year ACS members received a certificate from the ACS.

The 2015 Distinguished Service Award from the St Louis Section–ACS was presented to Dr. Myron C. Reese, who was honored for his activity in "High School Chemistry Awards" and "High School Chemistry Contest".
Eight past St Louis Section Chairs (chair year) attended, in addition to the current chair:
Benjie Outlaw (1988)
Donna Friedman (1992)
Hal Harris (1994)
Leah O'Brien (2003)
Keith Stine (2008)
Jeffrey Cornelius (2011)
Eric Bruton (2012)
Jim O'Brien (2014)
Pegah Jalili (Present)
The winner of Science and Technology Award, Mr. David Rhee, was announced and received a plaque and $500. See below for the whole story.
The evening finished with a presentation by the immediate past chair, Dr. James O'Brien, who spoke on "Spectroscopy of cold molecules and hot radicals".

---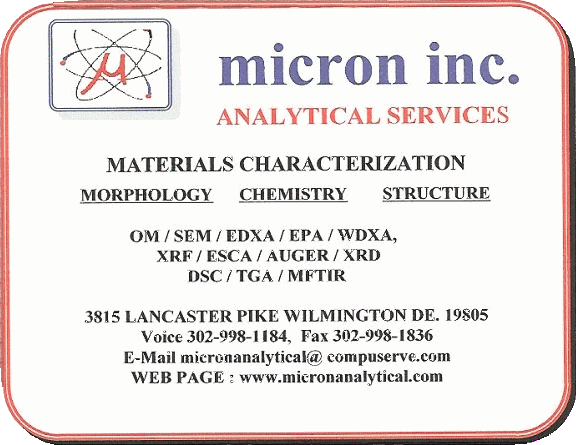 ---

Chemical Science & Technology Award Winner
David Rhee, research scientist at Sigma-Aldrich, is the winner of the 2015 Chemical Science & Technology Award. The award will be presented officially at Recognition Night, March 7. Refreshingly, David has chosen to tell us a little about himself (lightly edited):
I graduated in 2004 from Hanyang University in Republic of Korea with a Master of Science in Analytical Chemistry. During the M.Sc. program, I had an opportunity to study as an exchange research graduate student in Professor Rachel Klevit's lab at the University of Washington, where I first began to think that I would like to pursue my scientific career studying/researching in United States.

After graduation, I moved to United States and started working as a Research Technician in Professor Stephen Kron's lab at University of Chicago, where I was developing photocleavable peptide hydrogel arrays for MALDI-TOF analysis to study kinase activity. In 2007, I started my industrial career as a Research Scientist at Sigma-Aldrich where I am currently involved in various projects developing reagents and tools for high-throughput proteomic analysis using mass spectrometry. In addition, I am also supporting other production departments throughout the company with QC analysis of raw materials and final products using various analytical techniques.

I'm currently living in Creve Coeur with my wife. We have been married for 3 years.
Join us in congratulating David Rhee for his nomination and his win.
---

MO Tri-county Science Fair: Honors 9th-12th
The Missouri Tri-county Science Fair hit a run of bad weather when it was scheduled on February 21. Rescheduling forced the fair to split: the Honors division for grades 9–12 was held on March 7 at Francis Howell North HS. The K–4th, 5th–8th, and non-Honors 9th-12th divisions will be held on April 25th, 8am–12noon, at Saint Charles Community College Student Center. Co-coordinator, Philip Ferko, pferko8@gmail.com, 678.592.4710 (cell), is still soliciting volunteers for April 25.
But for now, we can officially congratulate the Honors winners (and, in fact, indirectly all the participants): congratulations!
First place went to
Ryan Lappin
, Grade 12, Timberland High School, Wentzville, MO for his
Amidinate Complexes: Synthesis, Characterization, and CS2 Insertion Reactivity
.
Katherine Balfany
took second place with
Lattice Coherency in Mechano-chemical Preparation of Magnesium and Titanium Metal Hydrides
. She is in Grade 12 at Holt High School, Wentzville, MO. Another Holt High School student,
Amelia Stone
, finished with a third-place medal for her project,
The Effects of Abiotic Stress on the Epigenome of Brassica Rapa
.
---

Awards Night will be Monday, April 13
Student winners and high school teachers receive a complimentary dinner; others may attend for $25 each. RSVP by Wednesday, April 7, to the Awards Night coordinator, Leah O'Brien at lobrien@siue.edu or 618-650-3562.
The Awards Night will be held this year at Maggiano's on the Boulevard (across Brentwood Blvd from the Galleria, (map). The cost will be $25 per person for all guests.
Winners of the High School Chemistry Contest, the High School Chemistry Teacher-of-the-Year, and the Outstanding Junior Chemistry Students at area colleges and universities are all recognized.
Agenda:
6:00 PM – Reception/social hour
6:30 PM – Dinner
7:45 PM – Awards program
---
KHS hosts girls' (science) night out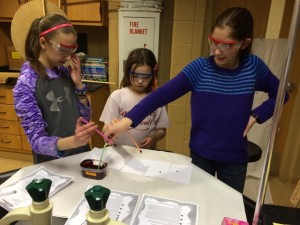 Girl Scouts of all ranks converged on Kirkwood High School on March 6th to learn and earn. Everyone yearning for a badge had to complete five different activities in a topical area.
Brownie Scouts, second-graders, met the Home Scientist challenge, and 11 earned their badges.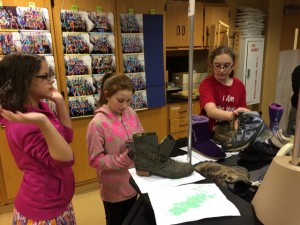 Their five activities centered mostly around food science, and fun.
Seven Cadette Scouts in grades 6 to 8 earned their Special Agent badges. Forensic science was their focus, but fun was very much in the picture here, too.
Senior Scouts from grades 9 and 10 faced up to the science behind cosmetics and fabrics. And fun. Three of them went home with their new Science of Style badges.
Organizers included Joanne McAndrews, Gail Bessler and Lisa Balbes. Volunteer assistance from Larry Eisenman and three SLU chemistry club members rounded out the staff. Their job was to assure safe participation, effective learning, and copious fun-having. Seems to have worked.
---

Chemists Celebrate Earth Day
Chemists Celebrate Earth Day (CCED) on Saturday, April 18, 2015 from 10 AM until 4 PM at the Saint Louis Science Center on the Dinosaur Overlook on the main floor.
The CCED 2015 theme is "Climate Science – More Than Just A Weather Report!", exploring climate science and the role chemistry plays in the environment. Greg Wall is the CCED coordinator (gwall37@msn.com).
Kids and Chemistry will have two tables "Enzymes are Workers" and "Crushing Cans" under experienced leaders Sheryl Loux and Don Sartor.
Volunteers for KIDS AND CHEMISTRY at the St. Louis Science Center for Earth Day (Coordinator Sheryl Loux, sjloux@gmail.com ) are asked to help for a minimum of 2 hours, and for volunteers the parking will be free (entrance is always free).
We can always use more helpers and NO EXPERIENCE Is Necessary. We suggest bringing a water bottle. There is a deli, pizza, etc for purchase at the Science Center or, if you wish, bring your lunch/snack.
---

Eleventh Annual STLACS Picnic
When
Sun, June 14, 12pm – 4pm
Where
Gloria Rogers Shelter, Tilles Park, 9551 Litzsinger Road, Saint Louis, MO 63124 (map)
Description
Bring the family! Bring the kids. (There is an excellent playground and spray pool across the park road for diversion.)
Just $5 per person, kids under 12 free. Please register by June 10th. To register, or if you have questions, please email obrienjja@umsl.edu .
Highlights:
— lunch at 12:30 PM
— games
— networking
— of course great people!
Make checks payable to St Louis Section–ACS. Mail checks to:
Vic Lewchenko
354 Larkhill Ct.
Webster Groves, MO 63119.
The Google Map link shows a pin at the Windegger Shelter. The Gloria Rogers Shelter is at coordinates 38.621031, -90.366127.
---

Upcoming Science Fairs
There are two remaining Science Fairs that need volunteer judges for the St. Louis Section Chemistry Awards:
A. 6 more judges are needed for the Missouri Tri-County Regional Science and Engineering Fair
WHEN: Saturday, April 25, 2015 Judging from 9 AM-Noon(rescheduled from February due to weather ).
WHERE: Francis Howell North High School in St. Charles (map).
Divisions K-4, Grades 5-8, Grades 9-12.
K-4 participation awards distributed.
Judging: 5-8 grades, 9-12 grades (no entries this year).
Honors 9-12 judging was completed March 7.
Free Judges breakfast 8-9 AM.
B. 10 more judges are needed for the The Greater St. Louis Elementary and Secondary Science Fairs
WHEN: Wednesday April 29, 2015.
WHERE: Edgar M. Queeny Park Recreation Complex, 550 Weidman Rd, Ballwin, MO 63011 in West St. Louis County (map).
Elementary (K-5) Participation Awards distributed to chemistry-related projects. Three people needed for about 1 hour each between 3:00 PM to 8:00 PM Wednesday, April 29, 2015 No Judging involved.
Secondary (6-12) Judging of chemistry-related projects 3:00 PM to 8:30 PM (Please come for at least 2.5 hours) Wednesday, April 29, 2015 All secondary judges must be present at 8:30 PM to pick winners Please allow about 1 additional hour for this process.
Dinner for judges is free at site (5-6:00 PM).
Coordinating these two fairs is
Philip Ferko, pferko8@gmail.com,(678) 592-4710 cell
2015 Sc. Fair Chemistry Awards Co-Coordinator
St. Louis Section, ACS
---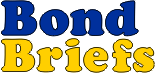 ACS Webinar
When: Tue Apr 14, 5:45PM-8:00PM.
Where: CIC@CET, 20 South Sarah Street, St. Louis, MO 63108‪ (map)‬
Live viewing How to Create a Safety Culture While Growing Your Business with discussion and networking opportunities.
Moderated by Neal Langerman of Advanced Chemical Safety, with speakers Brian Morin of Dreamweaver International, Inc., and Ken Fivizzani from the ACS Division of Chemical Health & Safety. The speakers will discuss safety protocols and requirements and the small business challenge.
Attendance is free, but registration is required. Contact YCC@stlacs.org with questions.
Hosted by the St. Louis–ACS Younger Chemist Committee.
National DNA Day
When: Saturday, Apr 25, 2015
Where: wherever you may be
Description
Celebrates release of the 1953 Nature paper by Watson and Crick describing the structure of DNA, and the completion of the human genome sequencing project 50 years later in 2003
---


Board of Directors
St Louis Section–ACS Board of Directors meets the second Thursday of each month, usually at the Glen Echo Country Club (map and driving directions). Meetings are open to all members, and all are encouraged to attend. Elected officers and chairs of major committees vote on questions put to the Board; others in attendance have voice but no vote.
If you want to attend for dinner, please contact the section Chair at least a week in advance. Usual cost of the dinner is $21 ($12 for post-docs and unemployed members). Bar service and dessert are optional extras. Members wishing to become active in section activities are welcomed for their first dinner as guests of the section.
Date: Apr 9
Social hour, cash bar: 5:30 pm
Business meeting: 6:30 pm (suspended for dinner when served)
Future meetings: May 14, Sept 10
Saint Louis University
Seminars are on Fridays at 12 noon in Carlo Auditorium, Tegeler Hall, unless noted otherwise. Refreshments follow. For more information, contact Jim Edwards, jedward5@slu.edu. Refer to the SLU Chemistry Department seminar page for the most up-to-date information.
APR 10
Webster Santos, Virginia Tech
TBD
APR 17
Amanda Hummon, Notre Dame Chemistry
TBD
APR 20-21
Robert Kennedy, University of Michigan
Sigma-Aldrich Lecture
MAY 1
Dave Gohara, SLU
TBD
University of Missouri–St Louis
Mondays at 4 pm in 451 Benton Hall, unless otherwise specified. Refreshments 15 minutes prior to seminar time. For more information, contact the Chemistry Department, 314.516.5311. Refer to the UMSL Chemistry Department seminar page for the most up-to-date information.
APR 6
Murray Lecture:R. Graham Cooks, Purdue University
Chemical Analysis in Situ using Mass Spectrometers: Operating Rooms, Crime Scenes, Grocery Stores and Factory Floors
APR 13
Adam Matzger, University of Michigan
TITLE
MONTH DAY
NAME, AFFILIATION
TBD
APR 20
Graduate Student Research Fair
APR 24
Jianfeng Cai, University of South Florida
AApeptides: from structure to function
APR 27
David Beratan, Duke University
Does Evolution Care about Quantum Mechanics? Electrons, Charge Transfer, and Life
MAY 4
Distinguished Alumni Lecture: Michael Groaning, Associate Director CMC, and Alliance Manager, Endocyte Inc.
An Unexpected Journey: From Benton Hall to Basel and Everywhere Else in Between
Washington University
Seminars are in McMillen 311 at 4 pm unless otherwise noted. For information, contact: Liviu Mirica, mirica@wustl.edu. Refer to the Wash. U. Chemistry Department seminar page for the most up-to-date information.
APR 9
Don Tilley, UC Berkeley
New Bond Activations, Chemical Transformations and Catalysis with Earth-Abundant First-Row Metals
APR 16
Javier Macossay, University of Texas-Pan American
Electrospinning Nylon 6 Fibers Reinforced with Nitroxide-Functionalized Graphene Oxide
---

The Chemical Bond is published at www.stlacs.org January through May and September through December by the St Louis Section–American Chemical Society. If you would like to receive email notification when each issue is posted, you can subscribe to our email list and join the "Chemical Bond reminders" group.
Correspondence, letters to the editor, etc., should be emailed to editor@stlacs.org
or mailed ℅ St Louis Section–ACS, PO Box 410192, Saint Louis, MO 63141-0192

Copyright © 2015 American Chemical Society and the St Louis Section–ACS

Editor
Margaret Allen
314.962.6415
editor@stlacs.org
Associate Editor
Eric Ressner
editor@stlacs.org
Assistant Editor &
Advertising Manager
Keith Stine
314.516.5346
advmgr@stlacs.org
Business Manager
Donna Friedman
314.513.4388
bizmgr@stlacs.org