Vol. 66, No. 3, March 2015
Awards Night will be Monday, April 13
Student winners and high school teachers receive a complimentary dinner; others may attend for $25 each. RSVP by Wednesday, April 7, to the Awards Night coordinator, Leah O'Brien at lobrien@siue.edu or 618-650-3562.
The Awards Night will be held this year at Maggiano's on the Boulevard (across Brentwood Blvd from the Galleria, (map). The cost will be $25 per person for all guests.
Winners of the High School Chemistry Contest, the High School Chemistry Teacher-of-the-Year, and the Outstanding Junior Chemistry Students at area colleges and universities are all recognized.
Agenda:
6:00 PM – Reception/social hour
6:30 PM – Dinner
7:45 PM – Awards program
---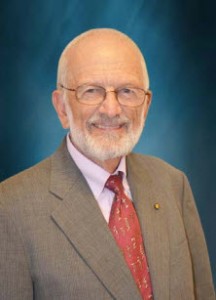 The Department of Chemistry and Biochemistry
University of Missouri–St. Louis announces the
Eighteenth Annual Robert W. Murray Lecture
R. Graham Cooks
Henry Bohn Hass Distinguished Professor of Chemistry
Purdue University
will speak on
Chemical Analysis in Situ using Mass Spectrometers:
Operating Rooms, Crime Scenes,
Grocery Stores and Factory Floors
4:00 pm Monday, April 6, 2015
104 Stadler Hall
See the flyer for more information about the speaker and the talk.
Parking is available in the West Drive parking garage.
---
Battle of Burets winners announced
On Tuesday, February 24th 2015, 34 students from 8 area high schools competed in the "Battle of Burets". This year, the Battle was held in the new Science West building at the SIU Edwardsville campus. Along with the new location, a new competition procedure was also developed. Students competed in teams of two students, but each student completed 3 individual titrations with the scores of the teammates combined for the team score. The top three teams received trophies and a round of applause from the other participants. In First Place were Ben Hahn and James Meade from MICDS (teachers Elizabeth Bergman and Justin Little). In Second Place were Noah Engel and Haley Keil from Clayton High (teacher Nathan Peck). In Third Place were Katie Krausz and Sydney Kaemmerlen from Villa Duchesne (teacher Kathy Danzo). Congratulations to all the participants!
---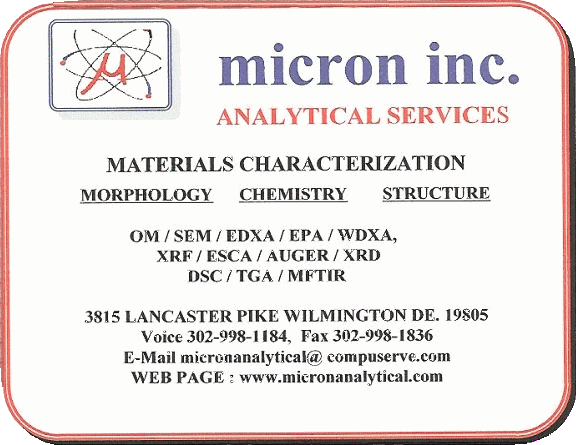 ---

Call for Nominations: Saint Louis Award
Nominations are solicited for the St Louis Award, which is sponsored by the Monsanto Company and administered by the St Louis Section–ACS. Nominees should be individuals who have made outstanding contributions to the profession of chemistry and demonstrated potential to further the advancement of the chemical profession. The awardee is selected by a review committee constituted by the St Louis Section–ACS. The award, consisting of a $1,500 honorarium and a plaque, is presented at the St Louis Award Banquet, which is typically held in October during National Chemical Week.
At the time of the nomination, nominees must not have previously received the Midwest Award or any national ACS-sponsored award. Nominees must be members or affiliates of the St Louis Section of the ACS. Nomination packets received by April 30 are considered for award presentation in October.
Nomination packages (vide infra) should be prepared as a single Portable Document Format (PDF) file and sent by email to Joseph Ackerman ackerman@wustl.edu .
Nomination letters, required as an integral component of the nomination PDF-file-package, can be formally addressed to:
Joseph J. H. Ackerman, Ph.D.
ACS Saint Louis Award Coordinator
Department of Chemistry
Campus Box 1134
Washington University
1 Brookings Drive
Saint Louis, Missouri 63130
Nomination packages (single PDF-file) should include, in this order:
a face page with the award name, the nominees name, and the date of the nomination;
a nominating letter, which includes note of any significant activities with the Local Section;
two additional seconding letters (not more) from individuals who have had a close professional affiliation with the nominee;
a brief biography of the nominee (one page or less);
a concise description of the nominee's chief accomplishments in the field (one page or less); and
a list of publications and patents.
Additional details can be found at http://www.stlacs.org/st-louis-award/.
---

---

Call for Nominations: 2015 Midwest Award
Your assistance is solicited in identifying candidates for the 2015 Midwest Award
The St. Louis Section of the American Chemical Society established the ACS Midwest Award in 1944 to recognize the outstanding achievements an individual made in chemistry in the Midwest Region. The award is conferred annually on a scientist who has made meritorious contributions to the advancement of pure or applied chemistry, chemical education, and the profession of chemistry. The contributions must have been made during a period of residence in the geographical area defined by the territories of the Local Sections that participate in the Midwest Regional Meeting of the ACS. These 17 Sections are listed in the programs for Midwest Regional Meetings (or call me to confirm eligibility). Nominees can work in industry, academia, government, or in private practice – they need not be members of the ACS.
The 2015 Midwest Award will be presented at the 50th Midwest Regional ACS Meeting to be held in St. Joseph, MO, October 21-24, 2015. Ceremonies feature a Midwest Award Symposium and the Midwest Award Lecture. The Award consists of a medallion and a cash honorarium; it is presented by the St. Louis Section Chair at the Midwest Awards Banquet. Conditions of this Award include that the recipient gives the Midwest Award Lecture, and attends the Midwest Awards Banquet; both events usually occur on the Thursday of the Midwest Regional Meeting – October 22, 2015 this year.
Nominations should consist of: a nominating letter for the nominee and two or more seconding letters; a CV for the nominee; a brief biography for the nominee; and documented and objective information regarding the outstanding achievements of the nominee. If the nominee is an academician, a list of persons who have received advanced degrees under her or his direction should be provided. Activities that support the ACS in the Midwest Region constitute an added criterion. Please submit nominations electronically via a single pdf file to the e-mail address given below. All nominations must be received on or before the deadline, Monday March 31, 2015.
If you have questions, please contact Jim O'Brien or call (314) 757-5717 (cell).
Nominations should be directed to:
Dr. Jim O'Brien,
E-Mail address: obrien@jinx.umsl.edu
2015 ACS Midwest Award Coordinator, and
Department of Chemistry and Biochemistry
University of Missouri-St. Louis
One University Blvd.
St. Louis, MO 63121
---

Chemistry is pHun
Seeking retirees eager to make an educational impact
One of the most popular outreach programs sponsored by the St Louis ACS section is Chemistry is pHun! Sheryl Loux, who runs this program unopposed (kind of like most of our elections) in West County school districts, is seeking a retiree to take over this rewarding program or to offer programs in far-flung school districts. If you are interested in early science education, you can make a huge difference; please contact Sheryl J Loux by email, sjloux@gmail.com or phone 636.237.5149 to discuss. Training is available.
2014 Program Impact
The twenty-four Chemistry is pHun programs in calendar year 2014 — all given by Sheryl — have impacted 822 students in 10 or more schools. Program activity for the 2014-2015 school year has started strongly this fall. The program modules offered by Sheryl are "States of Matter", "Chemistry is pHun", "What is Matter?", "Using the Scientific Method for a Science Fair Project", and "Polymers are Marvelous Molecules". Sheryl thanks Don Sartor and Amy Kerkemeyer for helping with some programs.
The "States of Matter" program is designed for elementary students and is popular in 2nd- and 3rd-grade classes. States of matter are explored with solid, liquid, and gas states of mainly water, demonstrating the addition or release of energy in the form of heat when changing physical states. Examples of plasma are mentioned and "Gluep" is made to show a substance that has properties of both liquids and solids.
Another program for grades K-3 is "What is Matter?" introduces the periodic table of elements and has kids constructing water molecules with marshmallows and toothpicks.
"Using the Scientific Method for a Science Fair Project" is designed for grades 5-8. "Polymers are Marvelous Molecules" includes DNA extraction from strawberries, and is suitable for grades 7-12.
Of the 822 students participating this calendar year, 610 students enjoyed the "States of Matter" program, 160 students have enjoyed the "Chemistry is pHun" program, and 52 students extracted DNA in the "Polymers are Marvelous Molecules" activity.
---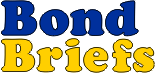 STLACS Younger Chemists Committee
The St. Louis ACS Younger Chemist Committee will host a live viewing of the ACS Webinar, "How to Create a Safety Culture While Growing Your Business" on April 14 starting at 5:45 PM. The webinar will be hosted by Neal Langerman of Advanced Chemical Safety, with speakers Brian Morin of Dreamweaver International, Inc., and Ken Fivizzani from the ACS Division of Chemical Health & Safety. The speakers will discuss safety protocols and requirements and the small business challenge. The St. Louis live viewing of the event will be held at Dentons Law Firm in downtown St. Louis (211 N Broadway 3000). Save the Date, and look for more information to follow soon. Contact ycc@stlacs.org with questions.
Recognition Night, one more time
There's still (a little) time to reserve your seats for recognition night. Honor the Distinguished Service Award winner. Meet and greet new 50- and 60-year members of ACS. Hear an entertaining and brief after-dinner talk by our immediate past chair. All the details are here. Do it by March 2.
Women Chemists Committee event
On International Women's Day, March 8, the Women Chemists Committee (WCC) of the St Louis Section–ACS is hosting a visitor, and you're invited to join. The location is JC Penney Building Room 202, University of Missouri–St Louis. Though the hour is traditional high tea, the refreshments are appetizers and a cash bar.
The main event is a talk by Dr. Cecilia Marzabadi of Seton Hall University, who is a PhD alumna of UMSL. The title of her talk, which is also the title of a book she co-authored, is Mom the Chemistry Professor.
Attendance is limited and reservations are closed at the time of this publication.
The event is jointly sponsored by the WCC of the St Louis Section–ACS, the Dept of Chemistry and Biochemistry of UM–St Louis, and the Department of Chemistry of SIU–Edwardsville.
---


Board of Directors
St Louis Section–ACS Board of Directors meets the second Thursday of each month, usually at the Glen Echo Country Club (map and driving directions). Meetings are open to all members, and all are encouraged to attend. Elected officers and chairs of major committees vote on questions put to the Board; others in attendance have voice but no vote.
If you want to attend for dinner, please contact the section Chair at least a week in advance. Usual cost of the dinner is $21 ($12 for post-docs and unemployed members). Bar service and dessert are optional extras. Members wishing to become active in section activities are welcomed for their first dinner as guests of the section.
Date: Mar 12
Social hour, cash bar: 5:30 pm
Business meeting: 6:30 pm (suspended for dinner when served)
Future meetings: Apr 9, May 14
Saint Louis University
Seminars are on Fridays at 12 noon in Carlo Auditorium, Tegeler Hall, unless noted otherwise. Refreshments follow. For more information, contact Jim Edwards, jedward5@slu.edu. Refer to the SLU Chemistry Department seminar page for the most up-to-date information.
Mar 20
Richard Dawes, MST – Rolla
TBA
University of Missouri–St Louis
Mondays at 4 pm in 451 Benton Hall, unless otherwise specified. Refreshments 15 minutes prior to seminar time. For more information, contact the Chemistry Department, 314.516.5311. Refer to the UMSL Chemistry Department seminar page for the most up-to-date information.
Mar 2
Aron Fenton, University of Kansas Medical Center
Counteracting hyperglycemia by targeting allosteric regulation of liver pyruvate kinase
Mar 9
William T. Pennington, Clemson
Halogen Bonding: Fundamentals and Applications – Xpanded polyiodides
Mar 16
Susanne Striegler, University of Arkansas
Macromolecular glycosidase mimics
Mar 20
Leena Suntornsuk, Faculty of Pharmacy, Mahidol University, Thailand
Applications of Capilliary Electrophoresis to Pharmaceutical Analysis
Mar 23
ACS Meeting, Denver/Spring Break
Mar 30
Jeremy Smith, Indiana University
Three-fold symmetric iron: multiple bonds and multiple spin states
Apr 6
Robert W Murray Lecture
R. Graham Cooks, Purdue University
Chemical Analysis in situ using Mass Spectrometers: Operating Rooms, Crime Scenes, Grocery Stores and Factory Floors
Washington University
Seminars are in McMillen 311 at 4 pm unless otherwise noted. For information, contact: Liviu Mirica, mirica@wustl.edu. Refer to the Wash. U. Chemistry Department seminar page for the most up-to-date information.
Leopold Marcus Lecture
Stephen Buchwald, MIT
Mar 5, 3 pm, Lab Sciences 300
Palladium-Catalyzed Carbon-Heteroatom Bond-Forming Reactions
Mar 6, 11 am, Louderman 458
Copper-Catalyzed Hydroamination
Mar 12
Christopher Bielawski, Ulsan National Institute of Science & Technology
Externally Controlled Chemistry: New Methods for Manipulating Polymerization and Other Transformations
---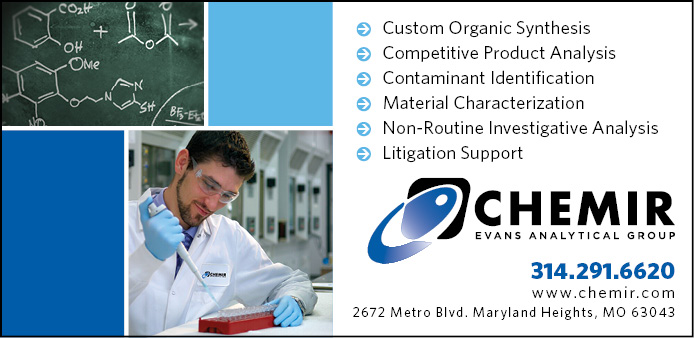 ---

The Chemical Bond is published at www.stlacs.org January through May and September through December by the St Louis Section–American Chemical Society. If you would like to receive email notification when each issue is posted, you can subscribe to our email list and join the "Chemical Bond reminders" group.
Correspondence, letters to the editor, etc., should be emailed to editor@stlacs.org
or mailed ℅ St Louis Section–ACS, PO Box 410192, Saint Louis, MO 63141-0192

Copyright © 2015 American Chemical Society and the St Louis Section–ACS

Editor
Margaret Allen
314.962.6415
editor@stlacs.org
Associate Editor
Eric Ressner
editor@stlacs.org
Assistant Editor &
Advertising Manager
Keith Stine
314.516.5346
advmgr@stlacs.org
Business Manager
Donna Friedman
314.513.4388
bizmgr@stlacs.org