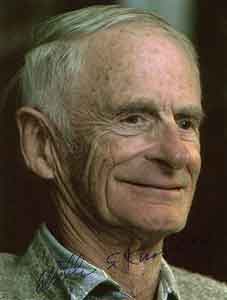 Dr William Standish Knowles, a Monsanto chemist who was awarded the Nobel Prize in Chemistry in 2001, died at his home in Chesterfield at the age of 95.
After earning his bachelor's degree in chemistry from Harvard University in 1939 and his PhD from Columbia University in 1942, he spent his entire career working for Monsanto, first at their Dayton, Ohio, location, then in St Louis from 1944 until his retirement in 1986.
Dr Knowles began the work in 1974 for which he received the Nobel Prize. Monsanto was producing the Parkinson's drug, L-DOPA, by a synthetic route that yielded racemic DOPA, then resolving the enantiomers and discarding the 50% that was D-DOPA. His idea was to use a chiral catalyst in a key step in the synthesis so as to tilt the mixture toward the active enantiomer. His first attempt provided about a 16% enantiomeric excess (i.e., 58% L- and 42% D-). By refining the process, he and his coworkers were eventually able to produce L-DOPA in 95% enantiomeric excess, or 97.5% pure.
In a foreshadowing of his outstanding accomplishment, Dr Knowles received the St Louis Award in 1978. We first reported on his Nobel Prize in the November, 2001, Chemical Bond. For the whole story, including details on Ryoji Noyori and K Barry Sharpless, who shared the 2001 Chemistry Nobel for asymmetric catalysis with Bill Knowles, check the Nobel Prize website.
Dr Knowles' wife of 66 years, Nancy, survives him, as do one son, two daughters, and four grandchildren. His obituary was published in the New York Times (paywall) and in the St Louis Post-Dispatch (free).