Well, would you look at that!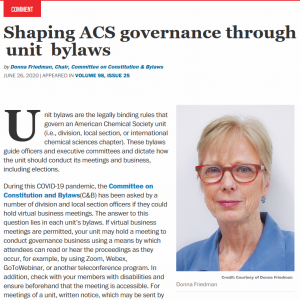 Donna Friedman — former Chair, Chemical Bond business manager since forever, and long-serving/suffering Councilor — has an article in a recent Chemical & Engineering News on unit governance.
Units, if you're not up on the jargon, refers to Local Sections and Divisions of the ACS. And each one has its own Bylaws. The Bylaws lay out aspects of unit governance like officers, standing committees, elections, special activities, and the like. And all changes must be approved by the national Committee on Constitution & Bylaws, of which Donna is Chair.
In the article, she outlines the process for updating Bylaws, and why any unit would want to. (Mostly it boils down to, "Things change", and if you don't amend the Bylaws to keep current, you could be doing stuff that your own Bylaws forbid: financially, electorally, prize-awardingly.)
We've gone through our own Bylaw revisions from time to time, and have had the benefit of Donna's expertise and hard-nosed adherence to the letter of the law. It has put us ahead of the game because we tend not to propose changes that would fall afoul of national strictures.
Anyway, give it a read (member login required if you've exceeded your quota of free articles this month) to find out a little of what transpires betwixt here and Washington.