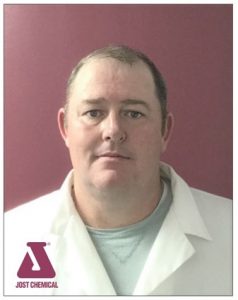 It is our distinct pleasure to announce the winner of the 2021 American Chemical Society, St. Louis Section, Chemical Science and Technology Award: Joseph Hardimon, MS. He is currently the Research and Development Manager of Jost Chemical Company in St. Louis. He oversees the process development, quality, regulatory, and sales & marketing of the product offerings at Jost Chemical Company.
Mr. Hardimon joined Jost Chemical Company in 1997. Starting as a research and development chemist, he has been involved with improving processes, providing technical support for the factory, qualifying new raw materials, and developing new processes on the lab and pilot scale for many of the products that Jost Chemical produces today. As Jost Chemical Company has grown, Mr. Hardimon was promoted to head the Research and Development team, which consists of multiple research and development and analytical research scientists. While Mr. Hardimon manages the research teams now, he is still is very much hands-on in the lab. He is the inventor of numerous patents of Jost Chemical Company and often publishes research articles in the company journal. Mr. Hardimon also created and instructs the "Jost Chemical Chemistry and Technology" course for existing and new hires at Jost, as well as training the research team with his over 20 years of experience in the chemical industry.
During Mr. Hardimon's successful career at Jost Chemical Company, he has served as Adjunct Instructor of Chemistry at Southwestern Illinois College for 7 years; lectured general, inorganic and organic chemistry; as well as instructing chemical laboratory sections. He also organized the Chemistry Merit Badge Symposium for Boy Scouts of America in his spare time.
Mr. Hardimon's distinguished career has been spent at the intersection of science and business, throughout which he has been a key driver of development of Jost Chemical Company. He enjoys teaching his chemistry knowledge and experience to the society, and to the next generation.