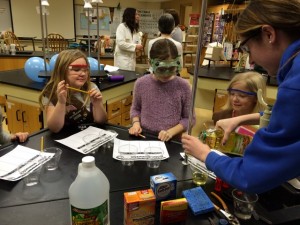 Brownies of all ranks converged on Kirkwood High School on March 6th to learn and earn. Everyone yearning for a badge had to complete five different activities in a topical area.
Brownie Scouts, second-graders, met the Home Scientist challenge, and 11 earned their badges. Their five activities centered mostly around food science, and fun.
Seven Cadette Scouts in grades 6 to 8 earned their Special Agent badges. Forensic science was their focus, but fun was very much in the picture here, too.
Senior Scouts from grades 9 and 10 faced up to the science behind cosmetics and fabrics. And fun. Three of them went home with their new Science of Style badges.
Organizers included Joanne McAndrews, Gail Bessler and Lisa Balbes. Volunteer assistance from Larry Eisenman and three SLU chemistry club members rounded out the staff. Their job was to assure safe participation, effective learning, and copious fun-having. Seems to have worked.