Vol. 68, No. 5, May, 2017
[Editor's note: please note that July is much closer than when the picnic was announced in March!]

Board of Directors
St Louis Section–ACS Board of Directors meets the second Thursday of each month, usually at the Glen Echo Country Club (map and driving directions). Meetings are open to all members, and all are encouraged to attend. Elected officers and chairs of major committees vote on questions put to the Board; others in attendance have voice but no vote.
If you want to attend for dinner, please contact the section Chair at least a week in advance. Usual cost of the dinner is $22 ($11 for post-docs and unemployed members). Bar service and dessert are optional extras. Members wishing to become active in section activities are welcomed for their first dinner as guests of the section.
Date: Mar 9
Social hour, cash bar: 6:00 pm
Call to order: 6:30 pm (Board Meeting suspended during dinner service)
Future meetings: Apr 13, May 11
Saint Louis University
Seminars are generally on Fridays at 12 noon in Carlo Auditorium, Tegeler Hall, unless noted otherwise. Refreshments follow. For the most up-to-date information, refer to the department's seminar page or contact Brent Znosko, znoskob@slu.edu.
University of Missouri–St Louis
Mondays at 4 pm in 451 Benton Hall, unless otherwise specified. Refreshments 15 minutes prior to seminar time. For timely information on visiting seminar speakers, contact the Chemistry Department, 314.516.5311, or visit the seminar schedule. The department has additional seminar series which are also accessible from this page.
Washington University
Seminars are in McMillen 311 at 4 pm unless otherwise noted. For information, consult the departmental events page. Related seminars, including endowed seminar series and the WU med school biochemistry series, are linked here as well.
POLYMER STANDARDS FOR GPC/SEC
MOLECULAR WEIGHT ANALYSIS
GPC/SEC COLUMN REPACKING
American Polymer Standards Corporation
8680 Tyler Boulevard, Mentor, OH 44060
Phone: 440-255-2211 Fax: 440-255-8397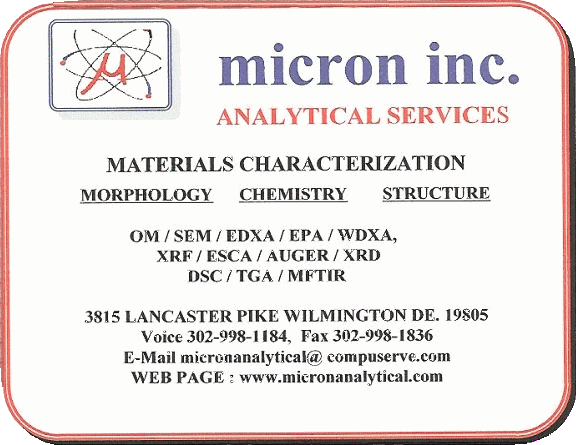 The Chemistry and Biochemistry Departmental Instrumentation Facilities at the University of Missouri-St. Louis (UMSL) provide instrumental services run by highly experienced and knowledgeable staff at a reasonable fee. Data collection and analysis services include NMR, mass spectrometry, X-ray crystallography, and microscopy.

Instrument Services Available at UMSL
NMR: Dr. Rensheng Luo at (314) 516-5330 or by email
MS: Joe Kramer at (314) 516-5120 or by email
X-Ray: Dr. Nigam Rath at (314) 516-5333 or by email
Microscopy: Dr. David Osborn at (314) 516-4761 or by email
Contact our experienced professional staff to meet your instrumental analysis needs.
The Department of Chemistry and Biochemistry at the University of Missouri–St. Louis Presents
The 30th in the Series of Distinguished Alumni Lectures
Dennis P. Parazak
BS 1982, MS 1986, PhD 1996. (Ricoh USA, Boulder, CO

A Career Path in Solving Problems: Applications of Surface & Colloidal Chemistry in Complex Systems
Monday, May 1, 2017
Room 104 Stadler Hall
Coffee: 3:15 pm, Awards: 3:30 pm, Lecture: 4:00 pm
The Chemical Bond is published at www.stlacs.org January through May and September through December by the St Louis Section–American Chemical Society. If you would like to receive email notification when each issue is posted, you can subscribe to our email list and join the "Chemical Bond reminders" group.
Correspondence, letters to the editor, etc., should be emailed to editor@stlacs.org
or mailed ℅ St Louis Section–ACS, PO Box 410192, Saint Louis, MO 63141-0192
Copyright © 2017 American Chemical Society and the St Louis Section–ACS